Sewing Mastery 2020 Pattern Library
10 Patterns for $9.99
We have moved all our downloadable patterns to the Sewing Mastery 2020 Pattern Library. With the purchase of this "course" you will have access to 10 of our most popular PDF patterns. Once purchased, you will instantly be able to download all 10 patterns.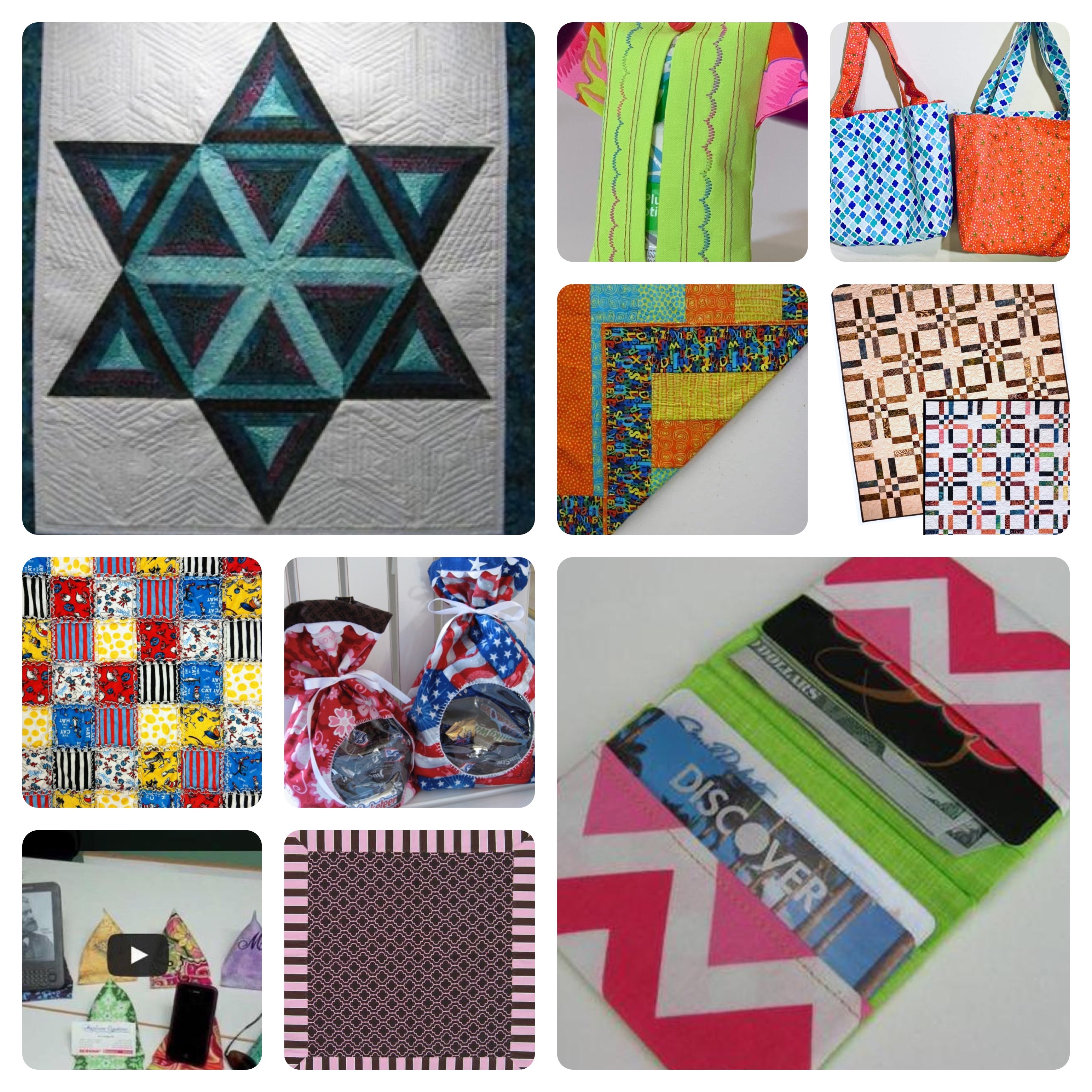 Such a Simple Bag - FREE

Kate's BIG Binding Quilt

1-Hour Serger Quilt

EZ Wallet

Hawaiian Shirt Tissue Holder

Smart Phone Holder

Trillion Quilt

Sundial Quilt - Great for scraps!

Treat Bags with Vinyl Window


Cuddle Rag Quilt
1. Such a Simple Bag - FREE PATTERN
These bags are not only REUSABLE they are REVERSIBLE! This shopping bag is a great beginner project and it will help use up 1 1/2 yards from the fabric stash! This bag requires no batting, interfacing or zipper. Simple cotton fabric is all this bag needs to help tote home 30+ pounds of anything! The secret is adding a strip of denim to these awesome fabric handles. This pattern includes tips for perfectly straight topstitching, using a built-in sewing machine stitch for simple reinforcing, easy adaption for using up fat quarters AND a serger construction option for even speeder results! We have started sewing these SUCH A SIMPLE BAGS for our local Food Pantry/Food Band to give to guests to help assist getting food home. These bags can hold much more weight than the standard plastic grocery bags AND they are reusable. Need to wash the bags? No problem. Just pop them in the laundry.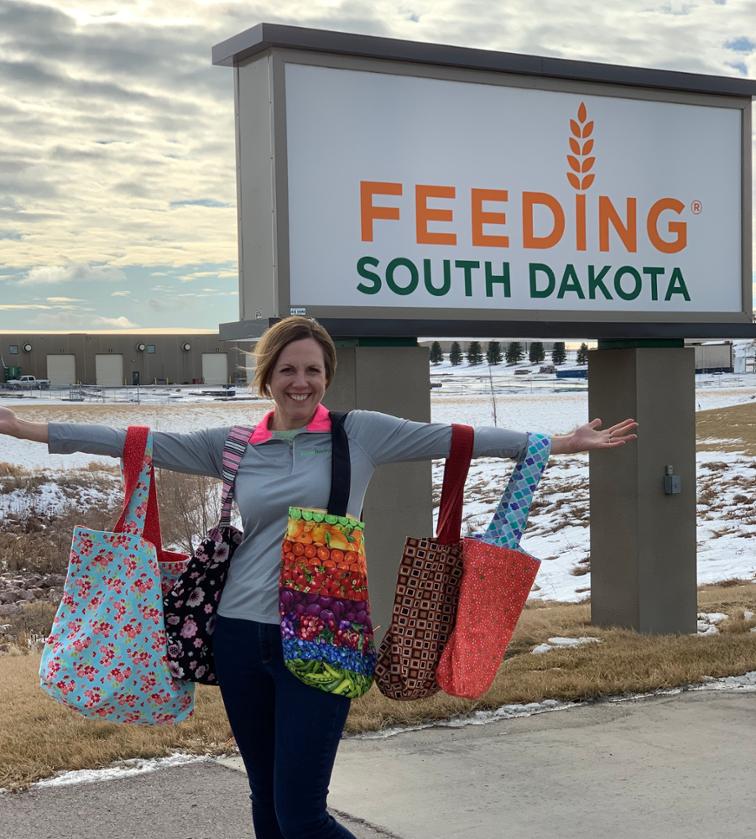 2. Kate's BIG Binding
The pattern requires 1 yard of fabric for the front, 1 yard of fabric for the back, 2 yards of fabric for the binding and a piece of cotton batting. The pattern includes a formula to plug in your own quilt size to figure out the proper front, back and binding strips needed to go around the quilt. Select one of those great decorative stitches you never use to complete the final stitching around the entire quilt! You will feel great using a new stitch from your sewing machine. Watch our YouTube video on how to make Kate's BIG Binding here.
3. 1-Hour Serger Quilt
This simple small throw size is a perfect charity, baby, donation item or thoughtful quick gift needed in a pinch. Choose to make the reservable side different or coordinating color. And best yet, use up those leftover 6 1/2" batting strips that are to small to sew together. Finished size: 42" x 52" Don't own a serger? Sew it with a sewing machine and walking foot. Watch the YouTube video on how to make the 1-Hour Serger Quilt.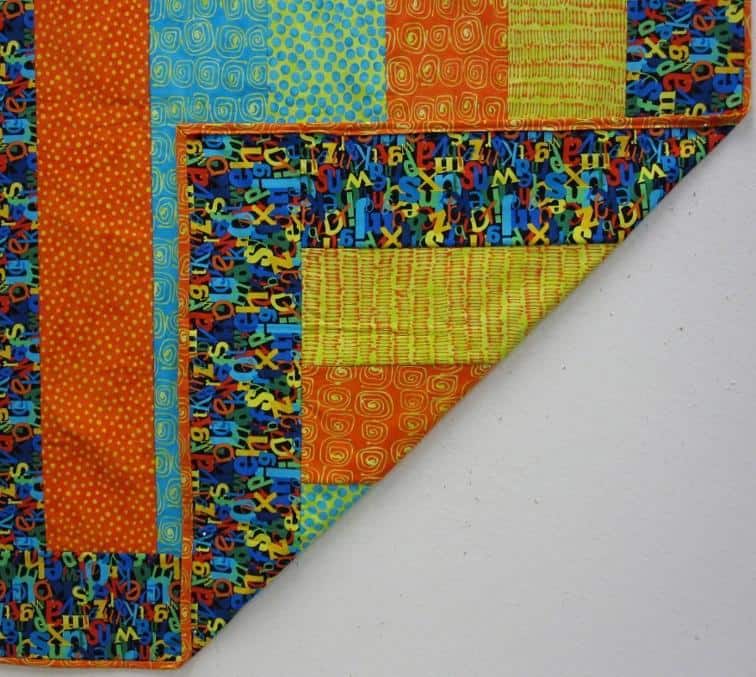 4. EZ Wallet
The EZ Wallet has a total of four pockets, two on each side that are perfectly sized for credit cards, ID and cash. It tucks in easy to small purses or cell phone bags to keep these extra items safe and all in one place. These also make up as wonderful gift ideas for the whole office or ladies group.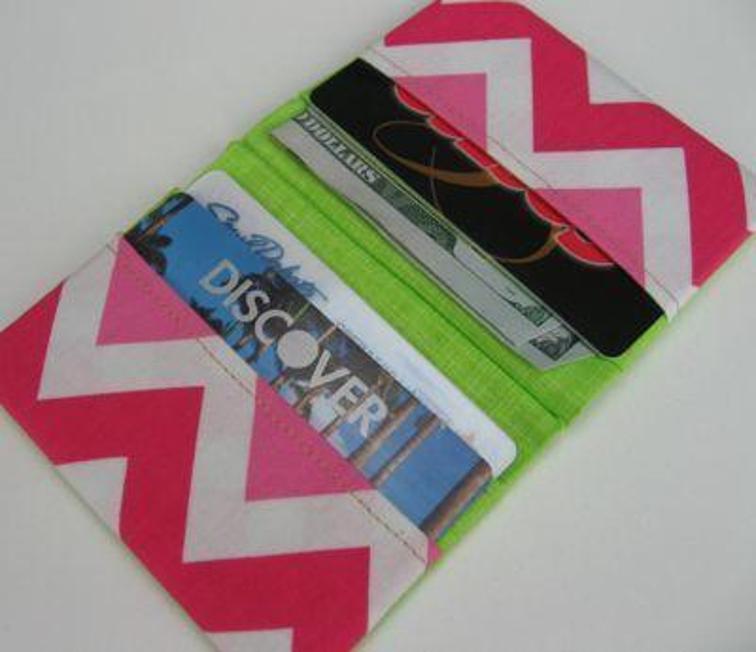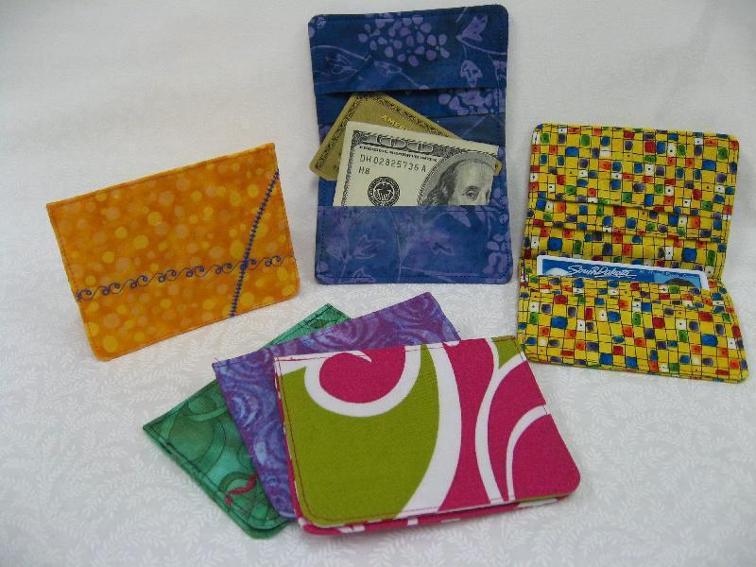 5. Hawaiian Shirt Tissue Holder
Question: What takes only 3 seams, 8 folds, 4" x 30" of fabric and 1 button? Answer: A Hawaiian Shirt Tissue Holder which fits a standard travel size tissue pack. Need a quick holiday gift for everyone in your family, office or sewing group? This clever tissue holder looks like a Hawaiian Shirt and takes only three seams to sew. It is a great way to use up the last 4" strip of fabric from your last project! Finished size: 6" tall x 5 1/2" wide Designed by Sara Snuggerud of Heirloom Creations. Check out our website at http://www.heirloomcreations.net. We are also the creators of SewingMastery.com where we do free sewing machine, serger and embroidery videos on every page of the manual of many current machines. BASIC SKILLS NECESSARY Only take 3 seams! Combine simple origami folding skills with fabric and a little sewing. SIZING / FINISHED MEASUREMENTS 6" tall x 5 1/2" wide

Watch me make this Hawaiian Shirt Tissue Holder here!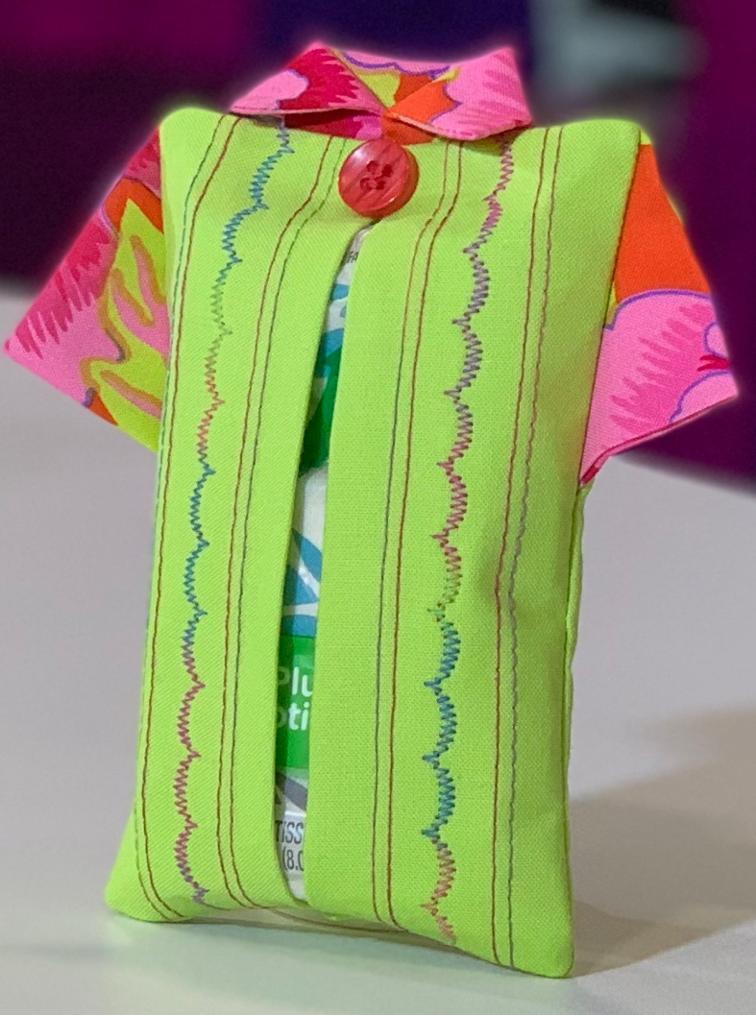 6. Smart Phone Holder
Check out our new Smart Phone Holder / E-Reader Holder pattern. Start with a simple rectangle, add crushed walnuts and stitch the holder lines and DONE - a perfect holiday gift! And it doubles as other uses too! Pin cushion, eye glass holder, business card holder and even add embroidery designs or monograms to personalize. Click here to watch the YouTube video.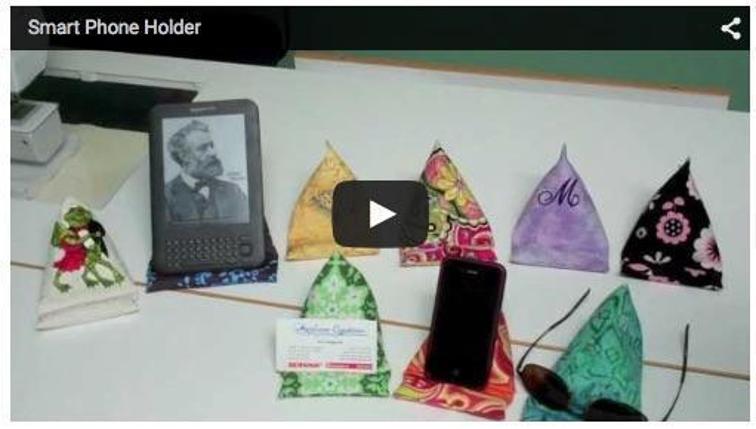 7. Trillion Quilt
Named "Trillion", this quilt was inspired by the Creative Grid 120 Degree Triangle Ruler. "Trillion is a triangular type of modified brilliant cut in gemstones." Finished size is 72″ x 82″. Click here to watch our YouTube video on the Trillion Quilt.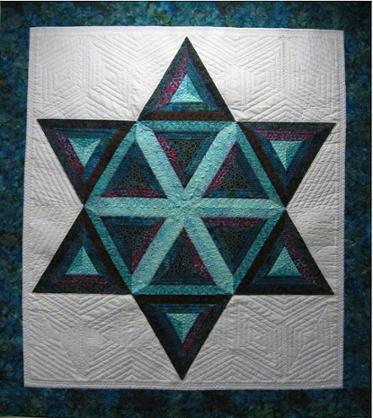 8. Sundial Quilt
Great way to use up 2 1/2" scraps! Best sewn using a variety of fabrics, cleaning out your closet is a cinch. Either select a little of everything or group scraps into color groups such as all blues or all browns. No matter the selection, these patterns are meant to make you look good. FINISHED SIZE: 66" x 78"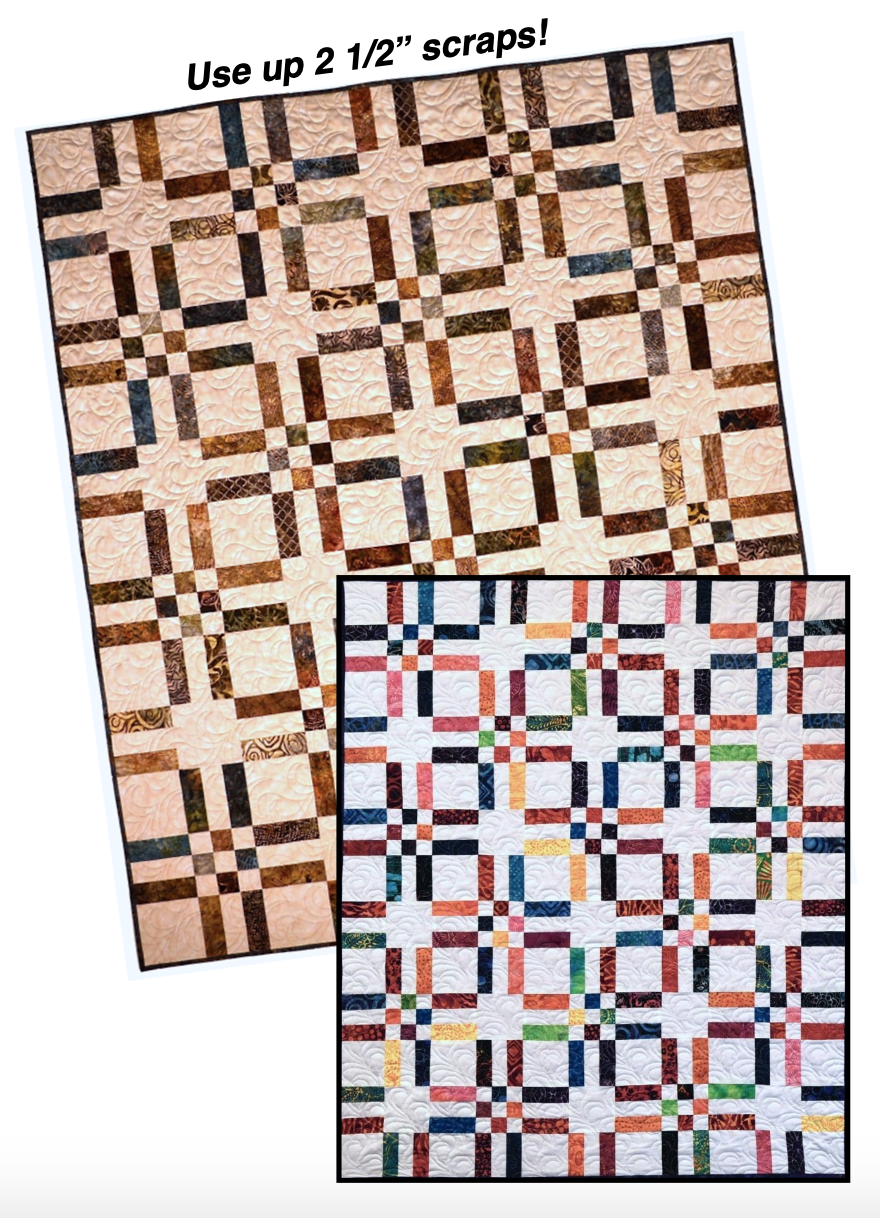 9. Treat Bags with Vinyl Window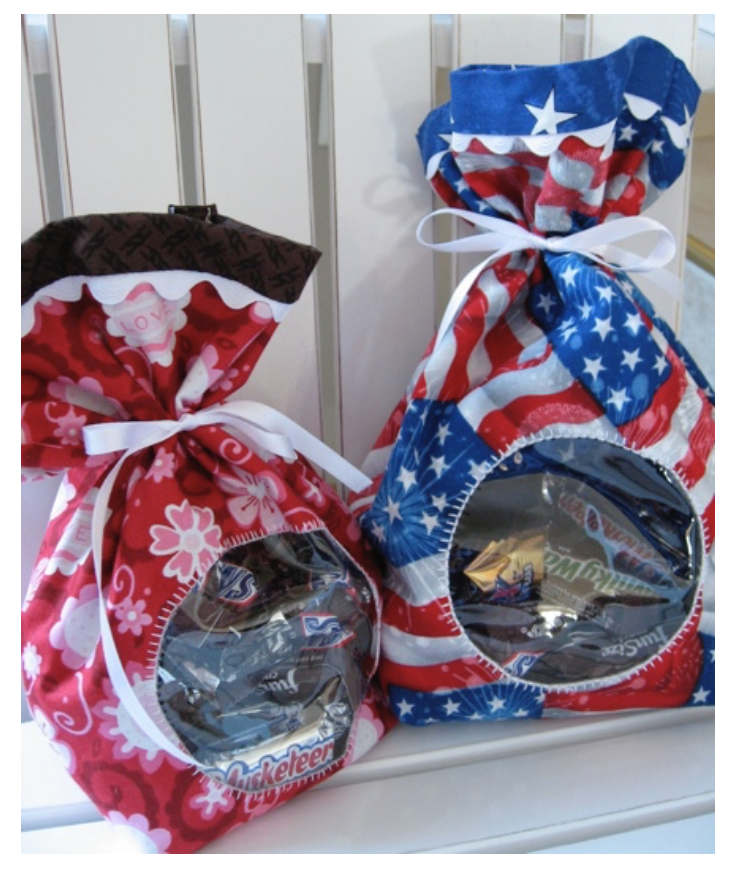 10. Cuddle Rag Quilt Pattern
Raggedy flannel quilts have been trendy for years, the Cuddle Rag Quilt is a fun twist on a popular quilt. Change from flannel to Cuddle fabric for an updated look and a much softer feel. Just sew, clip, and wash! Watch our YouTube video for extra Cuddle fabric tips here!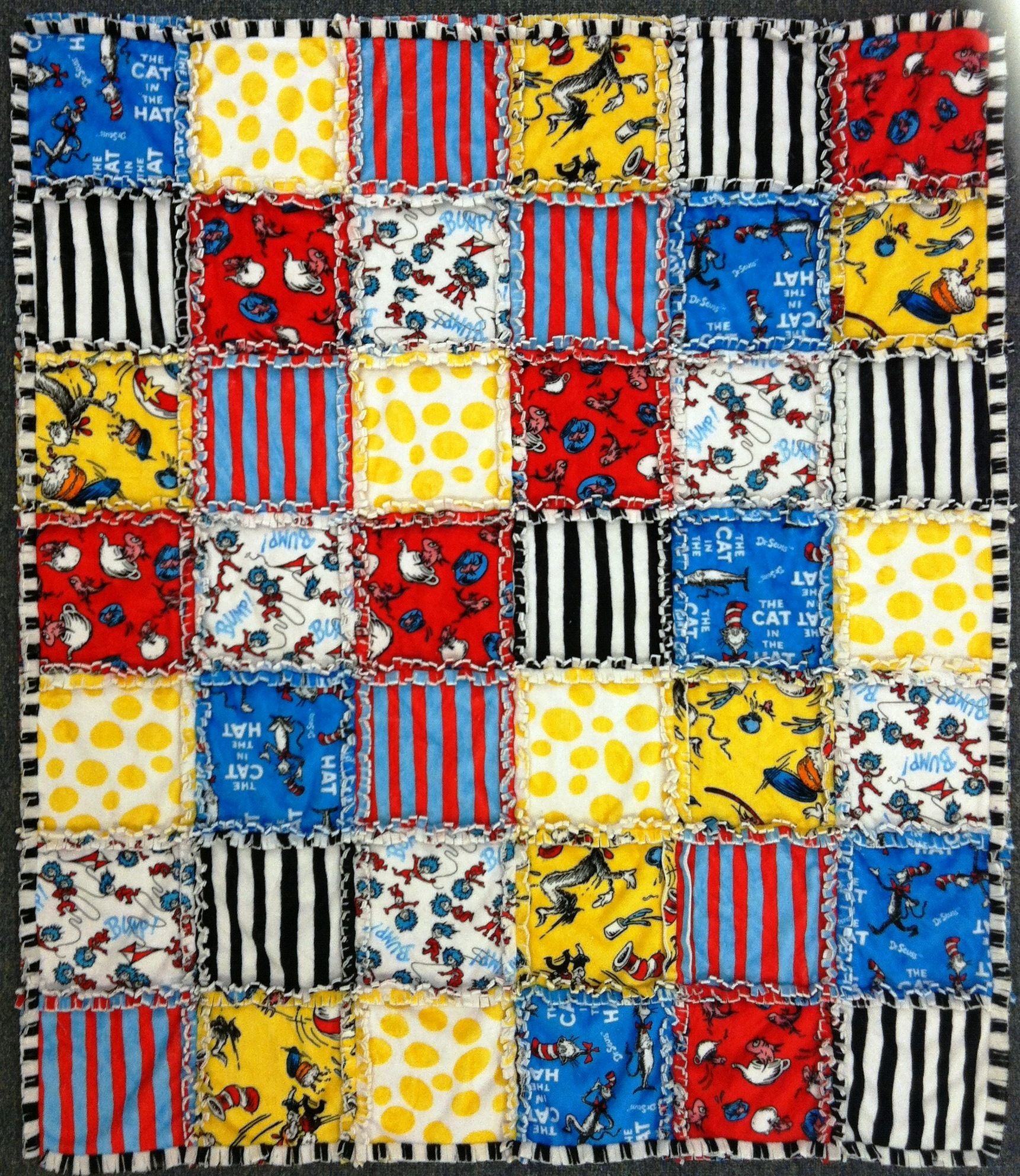 Course Curriculum
Sewing Mastery's Complete 2020 Pattern Library
Available in days
days after you enroll
Frequently Asked Questions
What is a Pattern Library?
A pattern library is our complete pattern collection. By purchasing this library, you gain access to every pattern listed. This is not a course.
How long do I have access to the Pattern Library?
How does lifetime access sound? After purchasing, you have unlimited access to patterns in this library for as long as you like - across any and all devices you own.
Do I have access to your courses with this purchase?
No. You will have access to the downloadable pattern PDF's.
What if I have already purchased one or two of these patterns?
Thank you for your past purchase! If you wish to have access to the additional patterns now available at the screaming LOW PRICE of only $9.99, please purchase access to this Pattern Library.